Student Easy-Access Checking
Ace money management and budgeting with the Student Easy-Access Checking account.

College students between the ages of 18 and 24 open a Student Easy-Access Checking account to stay in control of their finances and make every dollar count.
With the flexibility and support we offer, students will learn smart budgeting and saving strategies to make the most of your college funds.
When You Open an Account with a Bank that Puts You First You Get:


No Minimum Balance. No Monthly Service Charges.
Enjoy the freedom of banking without the stress of minimum balance requirements or monthly fees.
Opening Deposit Made Easy
Start with a $50 minimum opening deposit to get your account up and running.
Open online and save even more with a reduced minimum deposit of just $25.
Manage Your Finances, Your Way
Take control of your finances with complimentary personal financial management tools through Digital Banking.
Stay connected and in control with free Online Banking and Mobile Banking featuring Bill Pay.
Seamless and Secure Transactions
Experience the convenience and security of a free Visa Debit Card.
Enjoy the flexibility of making payments with Apple Pay, Google Pay, and Samsung Pay.
Convenient Access Nationwide
Access a network of 55,000 ALLPOINT ATMs across the country for easy cash withdrawals.
Send and receive money quickly and securely with ZELLE.
Free Benefits for Your Peace of Mind
Clutter with free e-Statements.
Receive a complimentary Thank You Gift as a token of our appreciation.
Enjoy the freedom of five non-Carver ATM withdrawal fees waived per statement cycle.
Terms & Conditions
Minimum opening deposit is only $50.00. $25.00 if the account is opened online.  Fees, such as non-sufficient funds, overdraft fees, etc. may apply to all accounts. See Fee Schedule for details. E-statement available at no charge, otherwise $3.00 fee per monthly paper statement. Carver Federal Savings Bank will waive up to five (5) Non-Carver Bank ATM withdrawal fees of $2.50 per calendar month. This is a fee that Carver Bank charges you for using a machine not owned and operated by Carver Bank. See your account disclosures and agreements for other important terms and conditions that may apply.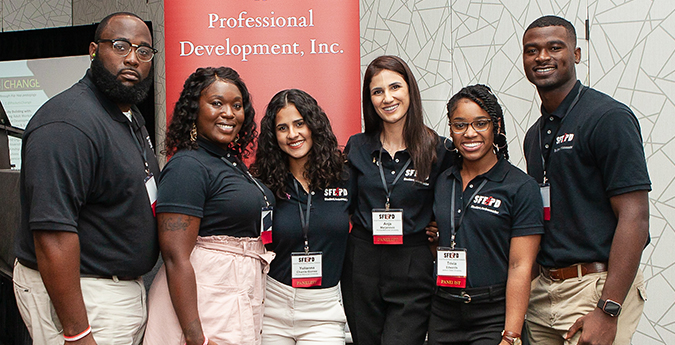 SFE&PD Partnership
Carver Bank has teamed up with The Society for Financial Education and Professional Development, Inc. (SFE&PD), a leader in the financial literacy movement, to teach students at Historically Black Colleges and Universities (HBCUs)important personal finance skills that lead to economic success.
In 2017, SFE&PD started a Student Ambassador Program to train college students to teach their peers about personal finance, specifically targeted for students at HBCUs. Carver Bank is proud to partner with SFE&PD to advance financial skills and opportunities for HBCU students by providing educational tools, resources, and access to Carver's leadership team to increase the financial engagement of students and individuals from underserved communities.
With the support of Carver Bank, SFE&PD will teach its innovative peer-to-peer financial literacy program on three HBCU campuses:
Medgar Evers University
Howard University
University of the District of Columbia