"When you do common things in life in an uncommon way, you will command the attention of the world." — George Washington Carver (1864–1943)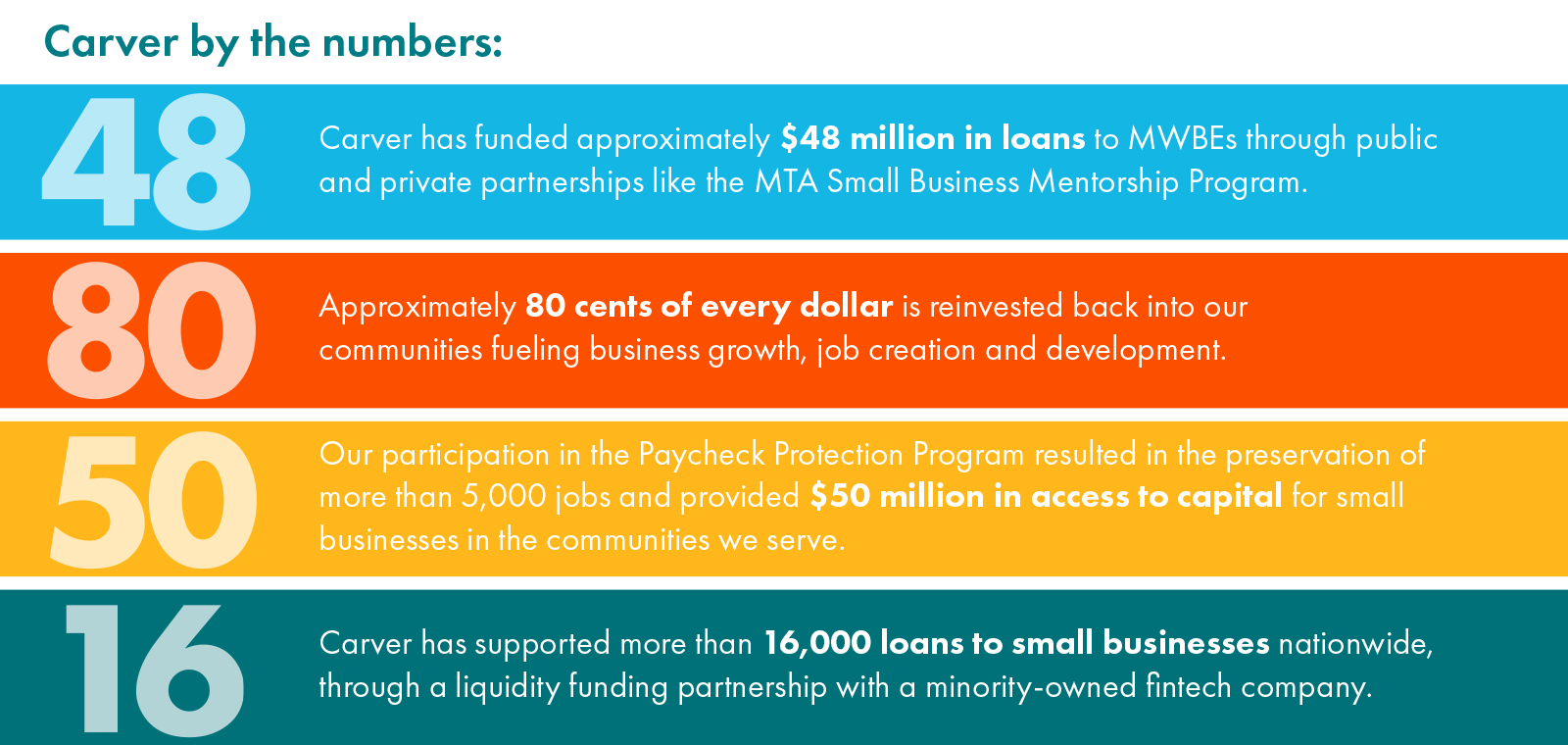 Carver was founded in 1948 by a group of civic-minded community leaders to serve African American communities whose residents, businesses, and institutions had limited access to mainstream financial services.
The founding members sought the ability to finance businesses, build wealth and maintain assets where they lived, worshiped, and worked.  From inception, Carver Bank has strived to fulfill the mission of its founders by providing local residents with a place to save, grow businesses and build wealth, block by block, and generation to generation.
Today, Carver is one of the largest African American operated banks in the United States (NASDAQ:CARV).  Headquartered in Harlem, Carver has seven full-service branches and 24/7 ATM Centers located in low- to moderate- income neighborhoods.

For over 73 years, Carver's mission has been to provide New Yorkers with access to capital and competitively priced banking solutions.  Carver continues in its mission by providing access to capital and banking services with a focus on Minority and Women-owned Business Enterprises (MWBEs) and consumers across the greater New York City region.
With an expanded ATM network through partnerships with Allpoint, J.P. Morgan Chase and Wells Fargo, Carver customers now have access to more than 80,000 ATMs nationwide.  Through its online banking channel, account opening is also available in nine states and Washington, DC.
Carver Community Development Corporation (CCDC), a wholly owned subsidiary of Carver Bancorp, has contributed $149 million in New Markets Tax Credits (NMTC) and over $259 million in leveraged loans to catalyze transformation of communities throughout the metropolitan region.  Approximately 80 cents of every dollar deposited is reinvested back into the communities, fueling business growth, jobs creation and stimulating economic development.
Carver has been designated by the U.S. Treasury Department as a Community Development Financial Institutions (CDFI) because of its community-focused banking services and dedication to the economic viability and revitalization of underserved neighborhoods.  It has been consistently awarded an "Outstanding" CRA rating for reinvestment in these communities.
As CDFI Banks work to attract greater levels of investment and other support, the industry must do a better job of "telling the story" of the impact that is being generated by the sector. To facilitate this, NCIF created the Bank Impact Dashboard. To learn more or request a copy of Carver's Impact Report, contact
Customer.service@carverbank.com
.